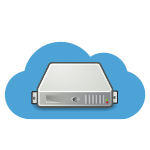 The Virtual  Private Server is the service that the customer has a custom server, but the server is not physically independent, it shares the same hardware with other virtual servers.

These are our rates for virtual servers:
Memory
Monthly traffic
Monthly rate
Fix rate
Virtual Server 20GB disk
512MB
100GB
30€
–
Virtual Server 40GB disk
1GB
200GB
40€
–
Virtual Server 60GB disk
1.5GB
300GB
50€
–
Virtual Server 80GB disk
2GB
400GB
60€
–
Virtual Server 120GB disk
3GB
600GB
80€
–
Additional 100MB Internet traffic pack
20€
–
1Mbps Internet bandwidth
49€
–
Firewall Service included
–
–
ISPCP control pannel for ∞ domains
25€
200€
Security Management
80€
–
Monitoring Service with e-mail alerts
20€
20€
Monitoring Service with e-mail & SMS alerts
35€
20€
Backup service
Our prices
–
You need to add taxes to these prices
The use of I/O resources can make you jump to a superior plan or the necessity of a dedicated server
Administrated Server Option
These concepts match the users who want a server administrated by themselves. In this case users own the root password  and GRN gives them the specified services. We can extend dedicated servers and dedicated virtual servers with services managed by GRN's technical staff, in order to give solutions to users who need sysadmin's support. We have 3 options: administrated only, administrated with ISPCP control pannel or administrated with Owncloud.
These are our administrated services:
Linux Administrated Server
Monthly rate
Fix rate
Administrated server manager till 50 domains
20€
–
Pack of additional 50 domains for an administrated server
10€
–
Antivirus & antispam installation
–
100€
ISPCP control pannel
Monthly rate
Fix rate
Owncloud
Monthly rate
Fix rate
ISPCP Control Pannel
10€
200€
Owncloud Service
10€
100€
You need to add taxes to these prices
ISPCP or Owncloud are additional services to the administrated server
GRN features and added value
Uninterrupted electricity supply
GRN's datacenter has an UPS system to ensure the operation of the servers in case of falling electricity supply. And if long-term losses, both UPS and the HVAC system have ensured the supply through a generator.
Temperature control
The servers need to work at temperatures below 20°C, which is why GRN's datacenter has a redundant air conditioning system and connected to the generator.
Guaranteed and high quality bandwidth
Using the same infrastructure that allows us to provide good connectivity and features explained here, we can guarantee a bandwidth quality for connecting your server to the Internet.
Fixed IP address
The service includes a fixed IP address for your server connectivity to the Internet. If you need more IP addresses, we can offer a range of addresses.
Firewall Service
The service also includes Firewall service. The Firewall is always configured by GRN and It doesn't have any cost client (provided that the number of rules and changes is reasonable).
If you want more information or a custom solution ask us at admin@grn.cat.