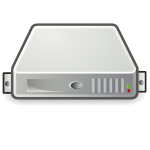 The dedicated server housing is the service of accomodating your own server in our data center or renting it. Within our datacenter your server will enjoy the optimum conditions for the operations you've assigned to it.
These are our housing prices:
Monthly rate
Fix rate
1U server Housing
80€
–
Ethernet connection for 1U included
–
–
Additional Ethernet connection
5€
–
Additional Microprocessor
5€
–
Additional HD (2HD included)
5€
–
IP address for 1U included
–
–
Addicional IP address
5€
–
Internet traffic 500 GB for 1U included
–
–
Additional 500GB Internet traffic pack
20€
–
1Mbps Internet bandwidth
49€
–
220V power supply connection for 1U included (1A max)
–
–
Additional 220V power supply connection
5€
–
Firewall Service included
–
–
Server renting depending on custom configuration
Ask for
–
ISPCP control pannel for ∞ domains
25€
200€
Security management plan (monthly or quarterly)
80€
–
Monitoring Service with e-mail alerts
20€
20
Monitoring Service with e-mail & SMS alerts
35€
20
Backup service
Our prices
–
You need to add taxes to these prices

GRN installs the server in the rack for free

Administrated Server Option
These concepts match the users who want a server administrated by themselves. In this case users own the root password  and GRN gives them the specified services. We can extend dedicated servers and dedicated virtual servers with services managed by GRN's technical staff, in order to give solutions to users who need sysadmin's support. We have 3 options: administrated only, administrated with ISPCP control pannel or administrated with Owncloud.
These are our administrated services:
Linux Administrated Server
Monthly rate
Fix rate
Administrated server manager till 50 domains
20€
–
Pack of additional 50 domains for an administrated server
10€
–
Antivirus & antispam installation
–
100€
ISPCP control pannel
Monthly rate
Fix rate
Owncloud
Monthly rate
Fix rate
ISPCP Control Pannel
10€
200€
Owncloud Service
10€
100€
You need to add taxes to these prices
ISPCP or Owncloud are additional services to the administrated server
Xen Server Option
If the desired solution is a dedicated Virtual Machine Server powered by Xen, GRN can manage your Xen Server, and the virtual server too. Each one of the Virtual Machines can be provided with the conditions of the previous features.
These are our Xen Server managing prices:
Xen Server Management
Monthly rate
Fix rate
Xen Server with dom0 administrated by GRN
30€
600€
Administrated Server Service, see administrated server prices
ISPCP Control Pannel service, see ISPCP prices
Owncloud Service, see Owncloud prices
You need to add taxes to these prices

All of these services are additional to the dedicated server
GRN features and added value
Uninterrupted electricity supply
GRN's datacenter has an UPS system to ensure the operation of the servers in case of falling electricity supply. And if long-term losses, both UPS and the HVAC system have ensured the supply through a generator.
Temperature control
The servers need to work at temperatures below 20°C, which is why GRN's datacenter has a redundant air conditioning system and connected to the generator.
Guaranteed and high quality bandwidth
Using the same infrastructure that allows us to provide good connectivity and features explained here, we can guarantee a bandwidth quality for connecting your server to the Internet.
Fixed IP address
The service includes a fixed IP address for your server connectivity to the Internet. If you need more IP addresses, we can offer a range of addresses.
Firewall Service
The service also includes Firewall service. The Firewall is always configured by GRN and It doesn't have any cost client (provided that the number of rules and changes is reasonable).
La gestió i administració d'aquest servidor la fa el mateix client o pot contractar el manteniment del sistema o de la seguretat a GRN.
The costumer manages and administers the server or you can contract a management plan with GRN technical staff.
More of opcions of housing
In GRN, we are Linux specialists and we can provide the server pre-configured with all the services you need. For more information or a customized solution please ask to admin@grn.cat.